With temperatures in the low twenties, teens, and even below zero sweeping the nation, it's important to wear super warm clothing in order to keep at a normal temperature and stay safe. But who's to say you can't do it in style?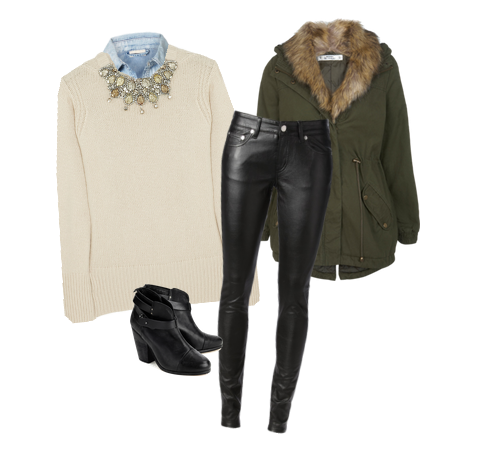 The first look I paired is very simple, but with a lot of elements that make it exciting. While the sweater is a neutral, the necklace piece adds a bit of sparkle. The leather finish of the pants do the same to boring black pants. The chambray shirt beneath the sweater and low black boots make the outfit polished. Finally, the military green jacket (that is
so
in right now!) has a furry hood for extra warmth and comfort.
While this outfit is a bit dark, I kind of adore it. A simple black sweater dress or tunic with a nice, dark colored plaid layered beneath it keeps your torso warm. With a pair of fleece lined leggings (they're real, and beautiful) your body will be cozy all day. A nice set of pearls will add the bit of sparkle to make the outfit shine, and some high boots, heeled or not, ensure maximum foot warmth.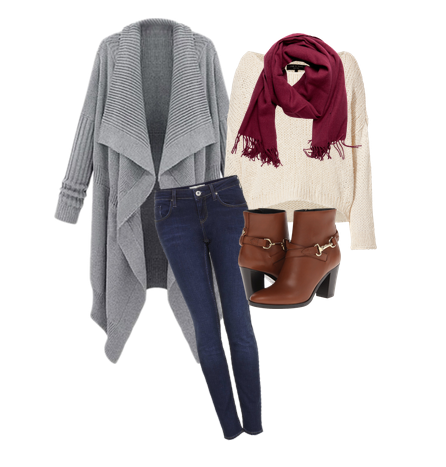 The last look is absolutely my favorite. If you haven't noticed a trend yet, I tend to favor neutrals during the winter months. When putting this one together, I wanted it to consist of pieces I could grab with twenty minutes to go and still be cute and warm. Start with a nice pair of dark jeans and a neutral sweater, top with a nice, flow-y cardigan-y sweater, and add a nice dark scarf for a pop of winter color. Finally, a pair of short brown boots with some sparkly hardware makes the outfit beyond average.
With the chilling temperatures, being warm and safe is of utmost importance. Being stylish, though? Always an option.
How do you like to bundle up in style in the cold winter months?